Cause and Effect | The Indian Express
Cause and Effect
Award-winning artists, Sabia Khan and Amit Dutt, on the purpose of art and being inspired by life's elements
Written by
Parul
|
Updated: September 16, 2018 12:26:26 am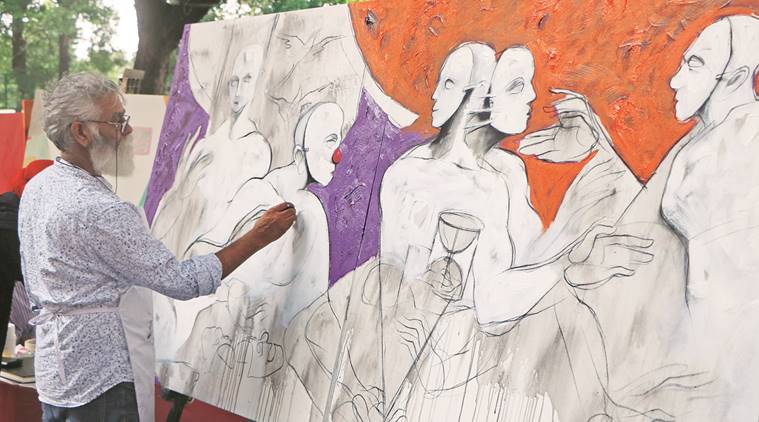 Amit Dutt at Chandigarh's Lalit Kala Akademi. (Express photo by Kamleshwar Singh)
From a long-distance athlete to a National Akademi Award winner, painter Amit Dutt's journey has been that of self-discovery. He has continued to be on a never-ending quest of creative urges. "My work is spontaneous and the imagery is meditative, replete with emotions and poetry. The force or energy inside me is depicted on the canvas and my art reflects the many facets of human life and its many dimensions," says Dutt, who is in Chandigarh for '18's Collision', an art workshop being held at the Chandigarh Lalit Kala Akademi, which is open to the public.
Working on the series titled 'Masks', "which we all wear", Dutt can be spotted painting a canvas on the theme. "My work explores the higher self and manifests the interconnections of harmony in form and tone and the inborn human desire to connect beauty with the supreme truth," explains Dutt, who recalls how a course in carpet designing led him to art school, and since then, he has never looked back. Dutt, also a Hindi poet, has enjoyed colouring the paper with phrases, words and gentle poetic expressions.
He says that for him it all begins with a flow of energy, be it poetry or painting. Working on large surfaces, Dutt adds that he doesn't draw. The work starts with a dot or line, which tells him what next, as he flows with the thoughts. In less than half an hour, one can see a new composition on the canvas. "A work of art, I believe is not about creating something beautiful, but expressing what I feel should be shown. Like poetry, it depicts us, what we feel, how we live and our relationships with others and our own selves," he says.
At different times, different subjects have inspired Dutt, with his family series exploring objects a family uses. "So many faces wearing masks, and as one by one these masks come off, you get wings and fly. The larger idea here is that you know the self. Energy guides my work, as various elements add on to create lines, which create images that resonate with many moods and vibrations," adds Dutt, who uses charcoal and acrylics for his work.
Sabia Khan's work celebrates nature, and through it she explores the relationship between nature and women. Her women figures constantly draw their solace amid nature. At the workshop, the Delhi-based artist is creating a work that depicts a woman under a tree, laden with semal flowers, while a parrot completes the beautiful scene. "My work is extremely detailed. I strive to give it a timeless appeal and my art gives me peace, happiness and keeps me away from everything negative," says Sabia with a smile. Sabia studied art at the Jamia Millia University and credits her teachers for imbibing in her the importance of space in art and pursuing it with seriousness and dignity. Sabia, who works with oils, says her work is drawn from life around her, with her home, women in the family guiding the many images. From the clothes we wear, objects in the house, our relationship with nature, animals, birds, Sabia says her art finds resonance with people for it portrays our connections with the world and other fellow beings.
Drawing from traditional miniatures, which she has stylised, Sabia has constantly engaged with natural elements that exist around us. "I do figurative work and render my subjects through bright and joyous colours. I spend considerable time studying each element that appears in my work before it appears on my canvas. I make it a point to sketch every day, something I learnt in college. I love working with oil for the work is smooth, rich and royal," she says.
A series that is close to Sabia, who won the National Akademi Award in 2001, is the work she'd done on Ghalib. It took seven years for her to get Ghalib on canvas, while she studied his poetry, writings, read about his personal life to create the works. Sabia has recently worked on 'Trysts with Nature', a series in which she has painted 108 birds, squirrels and flowers. "The journey is a junoon, as I am now going to do 40 portraits on 6×6 inch canvas. By depicting various natural elements like the red tesu flowers, squirrels and the woman figurines, I am only further exploring this harmony which all these elements are striving towards. At the same time it is an inquiry of the relationship that exists between these elements," says Sabia.