Brave New World | The Indian Express
Brave New World
As Saffronart's 200th auction begins today, co-founder Minal Vazirani reflects on its role in shaping the art market in India.
Written by
Pooja Pillai
|
Updated: June 13, 2018 12:07:55 am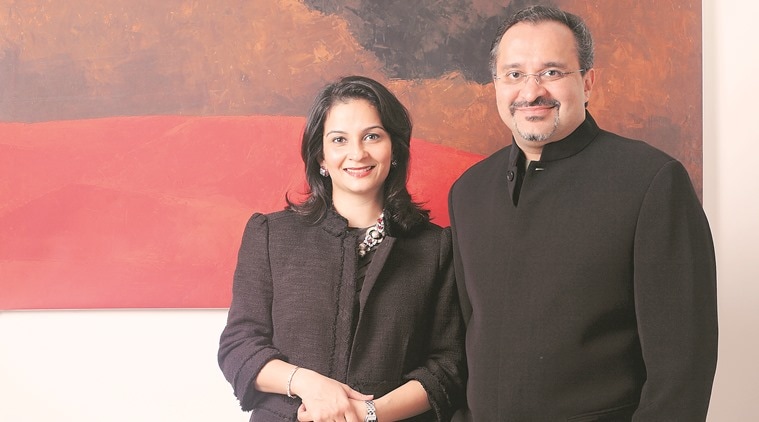 Minal and Dinesh Vazirani
When Minal and Dinesh Vazirani were preparing to launch Saffronart in 2000, the Indian art market was fragmented and opaque, and uninterrupted internet access was only a notion in most parts of the country. To start an online platform, particularly for the fine arts, seemed foolhardy and well-wishers were not shy of letting the couple know this. "Everyone told us we were crazy, and that no one would ever buy art online," recalls Minal, "Our biggest challenge was to overcome this resistance and create a level of trust and experience. Given how small the art market was in 2000, we did not anticipate the scale that Saffronart would grow to." The Vaziranis, who had returned to India from the US a few years before, were committed to making art accessible, having experienced first-hand how difficult it was to find and acquire good works. "We knew that there were several collectors like us, who were also similarly frustrated with the opacity of the art market," says Minal. Saffronart was thus designed to bring in clarity and empower buyers by allowing them to find information, view thousands of artworks regardless of their location, compare published prices and, with just a few clicks, to buy art and have it delivered to their doorstep.
Eighteen years later, Saffronart continues to go strong, with its 200th auction beginning today, featuring works by modernists such as Tyeb Mehta, VS Gaitonde, Amrita Sher-Gil, Zarina Hashmi, Manjit Bawa, SH Raza, FN Souza and Bhupen Khakhar. The highlights of the auction include Mehta's rare and iconic Kali (1989), an untitled 1965 canvas by Gaitonde, Raza's Paysage Provencal – I (Cagnes) painted in 1951 and Raja Ravi Varma's Untitled (Shiva), a rare representation of Lord Shiva as Dakshinamurthy, painted in 1903.
The landscape of the Indian art market too has changed over these years. At the time of Saffronart's launch, the Indian auction market for art was valued at less than $2 million. Compare this, says Minal, with 2016, when, as noted in Art Tactic's 2018 South Asian Art Market Report, Indian auction houses saw sales totalling $48.2 million. "Art collectors, with access to works, information, price transparency and a thousand more images than they ever had before, have become more aware and certainly more sophisticated. There seems to be a much wider group of interested collectors who know the artists they would like to collect, works that they may like to acquire and how to build their collections. One of the key aspects to shaping this for younger collectors has also been the proliferation of art fairs and access to a much wider body of work," she says.
An important driver of these changes in the market has been Saffronart itself, with its focus on innovative solutions, whether it was doing no-reserve auctions to help the market following the 2008 crisis or launching a mobile app for bidding on art, possibly the first of its kind in the world. "At the core of our innovation and risk as a company was the ability to create an online market where there was none, and one couldn't have been imagined very easily at the time," says Minal.