The New Black | The Indian Express
The New Black
Kaala Dibba, a new theatre in Delhi, opens possibilities for intimate performances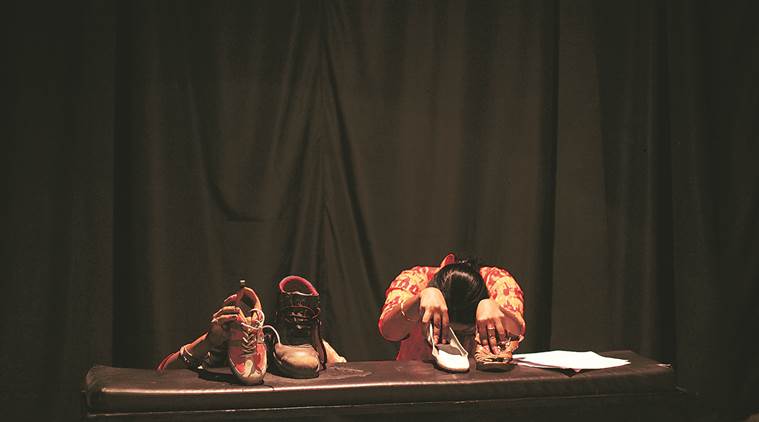 A performance at Kaala Dibba
In a silent and dark room, a few young men are moving through an illuminated patch practising stylised movements as part of a play rehearsal. They turn their bodies to depict people, props and, in a crucial scene, effigies to be burnt during Dussehra. The play, titled Putla, is adapted from a story by Uday Prakash but the experimental style is to complement the new venue in which it will be performed — a black box theatre called Kaala Dibba.
Started by Actor Factor, a group that has been around for a decade and knows all about the rigours of finding performance venues in Delhi, Kaala Dibba can seat between 30 and 50, is equipped with stagelights, dimmers, live audio mixer, studio-grade sound system, projector, and two movable wings, among others. In the past six months, it has hosted the promotional event for Onir's film, Kuch Bheege Alfaaz, a workshop and performance by children and teenagers of William Shakespeare's Comedy of Errors, a jazz night and talks.
A black box, by definition, is an unformatted space which artistes can design according to their aesthetics. Comedy of Errors had a thrust stage, while Dedh Inch Upar, a forthcoming solo by actor Raju Kumar, about a man drinking and talking about his wife, is likely to see Kaala Dibba transform into a restobar and the audience into diners, who will be served food and non-alcoholic drinks.
The black box theatre made its first appearance in early 20th century in the West as a flexible and minimal space with a neutral colour. The accent was on adaptability but, in recent years, many directors worldwide have begun to prefer off-site venues, such as historical sites, for their productions, and consider black boxes to be flat and featureless. In Delhi, where Mandi House halls are prohibitive for most groups, black boxes are coming of age. There is BlackBox Okhla that has opened doors in south Delhi's industrial district. Other offbeat venues include the transformed warehouse, Oddbird Theatre in Chhatarpur. That venues such as these can accommodate only limited audience, also removes pressure on artistes to fill a hall.
Kaala Dibba's position, right on a busy main road near Ghitorni metro station, becomes inconsequential in the sound-proofed interior that has no reverberation. The ceiling, though, is too low to allow multiple levels and parking is on the road. With the air-conditioning on for a couple of hours and the roof sprinkled with water, it is possible not to notice that Kaala Dibba is situated on the top floor that has been lashed by the sun all day.
A black box is an artiste's medium — where audiences come to see performers break the formula, without commercial constraints — and Kaala Dibba has thrown a new challenge to Delhi's imagination.
Address: Kaala Dibba, Actor Factor Studio, 416/2, Third Floor, Ghitorni Market, (Lane in front of metro pillar 127), MG Road. Rates: Rs 2,500 for a show, which includes six hours of the space with AC and three hours of light and sound. Or, a 50:50 sharing of donations. Contact: 7011746564