Oh, The Places You'll Go! | The Indian Express
Oh, The Places You'll Go!
A reading list for the young ones that will take them on flights of fantasy; introduce them to art and artists, folktales and architectural heritage; and even teach them a thing or two about feminism.
The scorching heat of Indian summers has never really lulled children into lethargy.
Author: Mariko Shinju (Translated into Hindi by Prem Prakash)
Publisher: National Book Trust
The art of minimalism has been a preoccupation with the Japanese even before Marie Kondo made her pathbreaking lessons in tidying up fashionable. Mariko Shinju had a headstart on it with the publication of the first of her Mottainai Grandma books in 2004. Shinju's principal cast is a rather stern elderly lady and her grandson; the old lady's lessons in mindfulness to her grandson forms the gist of her columns. "Mottainai," says Grandma every time she catches him not finishing his meals or wasting more water than necessary. Pencil stubs and mandarin peels, crumpled paper and wanton waste of electricity are all strict no-nos in Grandma's book. She teaches him to give articles an useful afterlife and helps him learn how to match his consumption with his needs — useful lessons in "careful consideration" that children in our consumerist world would benefit from.
Shinju's message of environmental consciousness and the idea of respect for resources as the basis of a more equitable world found resonance in Japan, turning Mottainai Grandma into a cult. Its moment of glory came when 2004 Nobel Peace Prize winner Wangari Maathai endorsed the word that loosely translates to "Do not waste" in the United Nations as a synonym for eco-friendliness. Mottainai Grandma is now available in a bilingual version in India (Hindi and English), adding to the recent trickle of publications on environmental issues for the young. Despite the wryness of tone (lost in translation, perhaps?), Shinju's spare text brims with suggestions for recycling and reusing, making a case for putting more thought into how and how much we use things.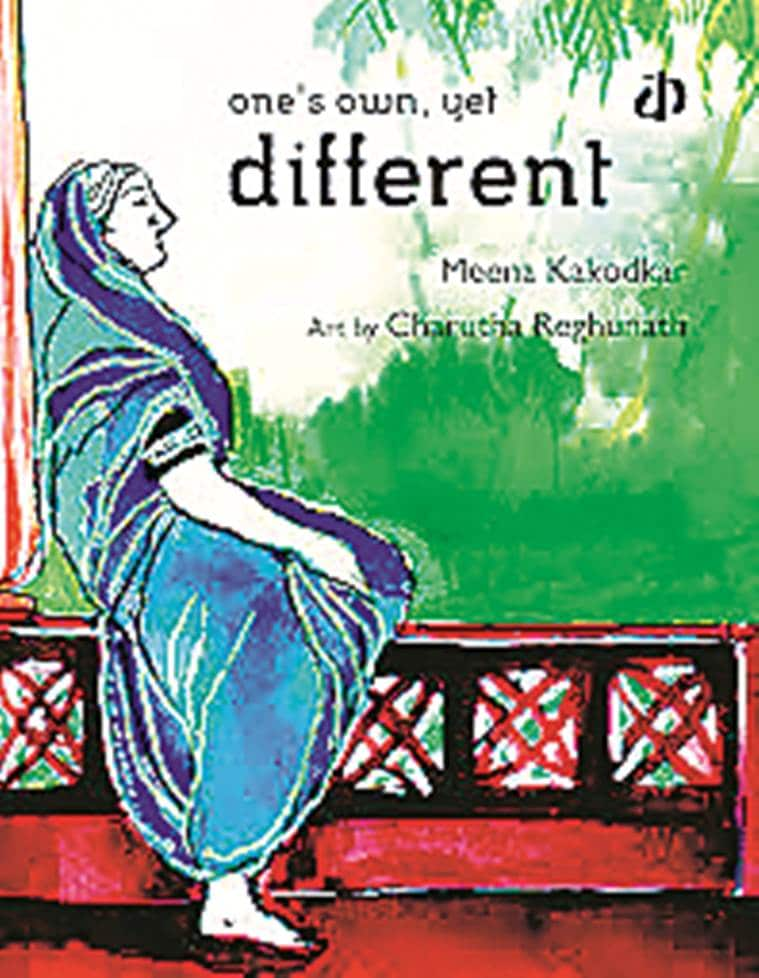 Book: One's Own, Yet Different
In 2016-17, Delhi-based publishing house and NGO, Katha, received funding from the New Zealand High Commission for a project to promote gender equality through children's storybooks. The result is a series of five books — Lachmi's War, Abba's Day, One Magical Morning, Chhooooo Mantar and One's Own, Yet Different – that promote equal rights and challenge patriarchal constructs of gender roles.
Banu has come visiting her Aaje (maternal grandmother) during the holidays and her incessant questions makes Aatibai look back at her life and question the lack of choices that she had always accepted as tradition. Why did she not go to school indeed? Why was she married off when she was no older than Banu? Did daughters really become outsiders when they are married off? Why indeed should family heirlooms then be passed on only to the son and not to the daughter? As the holidays end and Banu returns to her home, Aatibai is left behind to grapple with these questions and to wonder if she is capable of change.
Made available to primary school children in government schools, Katha Lab School and children in slum communities through libraries, Kakodkar's book should be an essential read for primary school children across the country, if only to highlight the banality of gender stereotypes and the urgent need to reconsider social conditioning that has been perpetuated as tradition.
Book: Ranji The Music Maker
The scorching heat of Indian summers has never really lulled children into lethargy. If anything, it fuels their ennui and motivates them to greater mischief. Nine-year-old Ranji, for instance, stumbles upon a treasure trove in the storeroom of his house. His grandfather had been in the army and had played the cornet in the regimental band. During his lifetime, he had put together a small collection of musical instruments and now Ranji had an entire vacation to put them to good use. He begins with a flute one lonely afternoon, but only the stray cats seem to find his performance mesmerising. The next day is no better — when strangers and neighbours shun his cacophony, he takes his grandfather's cornet to the zoo to entertain the animals. His misadventures continue with each new instrument he digs out, but all Ranji is really looking for is a friend who will keep him company through his one-man concerts.
The book, that was released on Bond's 84th birthday in May this year, was inspired by a photograph sent to Bond by a Sri Lankan reader, of a young boy playing the flute for his kitten; Bond translates it into a heartwarming tale of a boy's discovery of music and how animals can often make the best of friends. Even after all these years, it is difficult to not be charmed by the simplicity and effervescence of a Ruskin Bond story, redolent as it is of all that made childhood special — curiosity, naivete and a largeness of spirit that is unique to children.
Book: Amrita Sher-Gil: Rebel with a Paintbrush
Author: Anita Vachharajani
Publisher: Harper Collins
It's an exciting time for children's literature in India, with publishers willing to push the envelope with a wide range of topics and budgets that allow for competitive production quality. Anita Vachharajani's biography of Amrita Sher-Gil has benefitted from this — despite its steep price, it is one of the finest volumes of art biography to have come out of India in recent times that is directed at a young readership.
The story of Hungary-born Sher-Gil, one of modern India's first women artists, whose creative influences ranged from Indian miniature painting traditions to Italian Renaissance masters, is fairly well-known. But Vachharajani infuses it with a storyteller's joie de vivre and a biographer's devotion to her subject. Sher-Gil's global upbringing, her Bohemian spirit and her almost visceral urge to document everything that moved her through paintings and writing come alive in the snatches of diary entries and sketch book reproductions that Vachharajani provides alongside her narrative. A large section of the book is devoted obviously to reproductions of Sher-Gil's work and the stylistic progression of her art is as much a visual treat as the story of her life.
One of the pitfalls of trying to make stories easily comprehensible for children is to gloss over the larger picture of the time. Vachharajani, however, puts Sher-Gil's story firmly in context of the turbulent world affairs that shaped her life and that of those around her. Thus, woven both in the story, and in separate boxes, are the accounts of World War I, of the early years of British occupation of India and India's freedom struggle. In many ways, Sher-Gil was one of India's early feminists — her approach to art, to life was born of a deep confidence in her mettle and an urgent need to live life on her own terms and Vachharajani's nuanced retelling makes for a poignant read. A word of praise also for Kalyani Ganapathy's water colour illustrations that add depth to the book.
Book: Like A Girl: Real Stories for Tough Kids
Girls who rebel, go against tradition and march into uncharted territories have never been the stuff of fairy tales, until a crowdfunded book, Goodnight Stories for Rebel Girls, by Francesca Cavallo and Elena Favilli came out in 2016 and changed that with stories of 100 extraordinary women from across the world. Aparna Jain's Like a Girl: Real Stories for Tough Kids takes off from Cavallo and Favilli's model and presents the story of 51 Indian women who have defied happily ever afters to pursue their goals.
One of the best things about Jain's book is the wide range of women it has profiled. From Razia Sultan, Delhi's first female monarch to tribal activist Dayamani Barla, from writer-activist Mahasweta Devi to gymnast Dipa Karmakar, from Rukhmabai Raut, whose defiance of court orders would result in a landmark judgment of the time, to transgender activist, Gauri Sawant — the women in this book come from all parts of the country and from widely divergent socio-political and cultural backgrounds. There are some refreshing surprises, too, such as sportswriter Sharda Ugra and restarateur Ritu Dalmia.
Jain, whose first book was the lovely The Sood Family Cookbook (2013), does not talk down to her readers — the complexities of Indian life and the caste and gender hierarchies that browbeat women into submission loom large over the volume — Bhanwari Devi's rape and ongoing struggle for justice is told as succintly as the many caste slurs that women such as writer Bama or BSP leader
Mayawati
have had to overcome. Bolstered by artwork by 27 talented women artists and the inclusion of a primer that breaks down issues such as caste and mental health for young readers, this is a well-conceived, well-executed volume geared to provoke conversations and debates over them. In the preface, Jain indicates that there might be subsequent volumes to this edition. They would indeed be welcome additions.
Book: Scholastic Encyclopaedia of Dinosaurs
From Steven Spielberg (Jurassic Park, need that be told?) to Craig Bartlett (creater of the animation series Dinosaur Train) to Peter Sohn (director, The Good Dinosaur), everyone loves a good dinosaur tale. Their representation in fiction aside, the evolution, life and eventual disappearance of dinosaurs have fascinated paleontologists and scientists for long and resulted in reams of literature, both scientific and otherwise.
While Steve Brusatte's The Rise and Fall of the Dinosaurs: A New History of A Lost World is earning rave reviews for its masterful elucidation of the evolutionary history of the dinosaurs for adults, dinosaurs have been a favourite theme in children's books, too — from Priddy's collection of six board books for tiny tots to National Geographic's mini encyclopaedia on these extinct reptiles. What sets Scholastic's encyclopaedia apart is the way it engages with the narrative history of the dinosaurs — it breaks down the characteristics of each species to its physical features, habitat and era, while also addressing lesser-known facts or common misconceptions about them. Which was the first fossil that linked dinosaurs to modern birds? (A fossil of Sinosauropteryx found in Japan.) Is the Loch Ness monster in Scotland actually an Elasmosaurus? (Unlikely, truth be told.) Was the Rajasaurus Narmadensis the only dinosaur to be found in India? (Absolutely not, there were at least four other varieties, including the Isisaurus and the Kotasaurus.) These and many other fascinating facts about those pre-historic reptiles come together in this engaging volume.
Book: Treasure at the Train Station: An Adventure in Mumbai
Author: Joeanna Rebello Fernandes and Rituparna Sarkar, Hitesh Sonar
A treasure hunt, the history of Mumbai's gorgeous Victoria Terminus that was designed by British architect Frederick Stevens, and, a bit about how seven islands in 1660 came to form the Mumbai that we are familiar with in 2018, Joeanna Rebello Fernandes and co.'s book is both an adventure story and a lesson in Mumbai's gorgeous architectural and civic heritage. It is 1967, and Neelkamal, an aide of diamond merchant Hiralal, is taking a priceless emerald that the Maharaja of Mundhol had sold to his employer. All is going well till the train pulls up at the VT (yet to be renamed Chhatrapati Shivaji Terminus). As a passenger careens into him, throwing him off balance, the Wolf's Eye, hidden carefully in the folds of his turban, is lost forever.
But VT or CST, call it what you will, is a magical place — the animals and birds carved on its pillars and arches come alive in the dead of night and keep a close watch on the going-ons in the station below. The emerald finds a pride of place with Mooshak, a one-eyed stone mouse. It will be years before Neelkamal, now an old man with twin grandsons, will find it again and not before it has had its fair share of adventures. The authors take their readers through some of Mumbai's heritage landmarks, offering them insights into public spaces that one is familiar with, without knowing its history too well. There's also a brief index in the end that breaks down architectural terms and provides rough maps to illustrate how Mumbai grew into the teeming megapolis that it is today.
A childhood without folktales and fables is a childhood only half lived. These stories act as anchors, mooring us to our soil and to the quirks of our people, introducing us to our native flora and fauna, and, teaching us wisdom through accounts of others's follies.
For those of us who have grown up with Thakumar Jhuli and Upendrakishore Ray Chowdhury's Bengali folk tales such as Tuntunir Golpo, this selection of folktales from Kerala feels like a place of comfort. The similarity in some stories with folk takes from other regions and cultures, such as 'Ammu and Ammalu', 'The King and the Little Bird', is a reminder of our cultural consonance while stories such as 'Who Will Speak First?' that talk of an elderly couple bickering over delicious neyyappams speak of a way of life that a generation of urban children growing up with Doraemon and Harry Potter might be unaware of. A minor gripe, though, is the production quality that would have benefitted from more funds.