The Role of Mathematics and Geometry in Formation of Persian Architecture - Muslim HeritageMuslim Heritage

The Role of Mathematics and Geometry in Formation of Persian Architecture
Geometry is one of the main features in the formation of Persian architecture. Research in Persian architecture geometry is impossible without familiarity with geometry. This research tries to demonstrate the relationship between the progress of Persian architecture, geometry and mathematics evolution. In this regard, we seeks to address the following questions: What is the relationship between the progress of Persian architecture and geometry evolution? To this end first, a detailed survey is conducted on the Persian Architecture and Mathematicians in both the pre-Islamic and Islamic Histories. The Persian civilisation is analyzed and chronologically organized to determine the evolution and impact of mathematics and geometry impacts on the formation and development of Persian architecture.
1. Introduction
2. Method
Present investigation is theoretical-fundamental, carried out in historical-descriptive method. Needed information was gathered through studying valid historical sources and field observations. What we know about relation between architecture, and mathematic is largely based upon interpretive studies that investigate the progress of the Muslims in the Islamic and pre-Islamic historical texts. The study was conducted in the form of a historic- interpretative, with data being gathered via Conformity of history, art and science architecture. In the Islamic era and earlier, using available resources and library information. The aim of present investigation is to compare art, mathematics, geometry and the application of mathematics in architecture to obtain a definition and interpretation of component influencing Persian architecture from geometric point of view, through classifying mathematicians and scientists influencing Persian architecture, considering history and eliciting mathematical and geometric principles governing designs and principles of drawing.
3. Literature Review
4. History of Employing Geometry before Islam
In order to get familiar with Iranian people's knowledge of Geometry specially applied geometry in art and investigating geometrical developments used in Iranian Architecture before Islam, we will present several historical eras, here, to show samples indicating achieving developments in applied geometry in architecture, scientists' knowledge of geometry and its feedback in architecture art of that era.
5. History of Employing Geometry after Islam
Islamic era architect one of whose condition to step into this profession is being familiar with principles of mathematics and geometry, is completely familiar with principles of employing scales in structure and using a scale, he could use ratios of scientific geometry artistically, depending on environmental conditions (Sadeghi & Ahmadi, 2011, p. 107). Doing so he could start unique creativities, through using his interest, genius on one hand, and employing geometrical component one the other hands who are generally considered as support of his work appropriateness.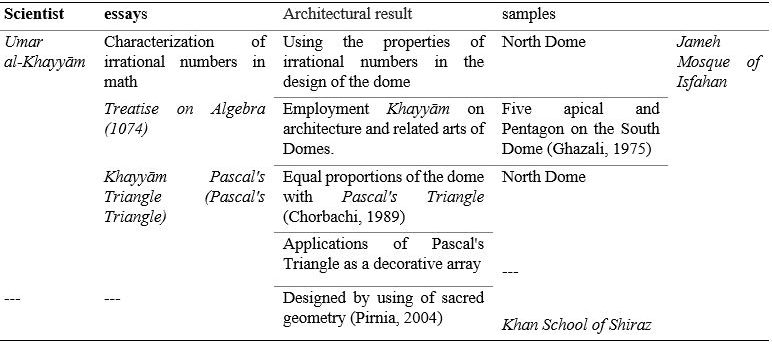 Qajar decoration is usually unmistakable. Simple, rather strident tiled geometric or epigraphic designs in small glazed bricks were especially popular. Reflecting glass now complemented polychrome tilework, adding play of light to play of color (See Figure 8). The facetted surface of muqarnas vaults was the ideal vehicle for this late but still novel expression of a classic preoccupation of Iranian architecture. The dissolution of surface by resplendent ornament.
6. Conclusion
References
Afshar, I., & Jafari, M. (2005). Tarikh- e Yazd (History of Yazd) in Persian (First edition ed.). (I. Afshar, Ed.) Tehran: Elme va Farhangi.
Alagheband, F. (2012, December 15). www.panoramio.com.
al-ʿĀmilī, B.-d. (n.d.). Khulasat al-hisab. 1974: Kutubkhanah-i Rahimiyah.
al-Farabi, A. (2005). Ihsa' al-'ulum and De ortu scientiarum: texts and studies (title in English: "Survey of the Sciences" or "On the Introduction of Knowledge" ). (C. Ehrig-Eggert, F. Sezgin, & E. Neubauer, Eds.) Institute for the History of Arabic-Islamic Science at the Johann Wolfgang Goethe University.
Ali Khan, W. (1998). Matla-i ul-Ulum va Majma al-funun. In N. Hadi, Dictionary of Indo-Persian Literature (1 Edition ed., p. 609). Abhinav Pubns.
Al-Karaji. (1345 H (1966-67)). Estexra-e abha-ye penhami. [Translation From Arabic to Persian of Al-Karaji's Extraction of Hidden Water by Husayn Khadiv-Djam]. Tehran: Iranian Culture Foundation.
AL-KÂSHÎ, G.-D. (1977). Miftâh al-Hisâb (Key of Arithmetic) (Arabic edition, with French notes and introduction ed.). (N. Nablusi, Ed.) Damascus: Damascus Society.
al-Khwārizmī, A. (2011). Mafatih al-Ulum (Key to the Sciences) (Persian ed.). (H. Khadiv-Djam, Trans.) Tehran, Iran: Nashr e Elmi Farhangi.
al-Tabari, M. i. (1970). Miftah Al Moamelat (5 th hegira) (Persian ed.). (M. Riahi, Ed.) Tehran, Iran: Iranian Culture Foundation Publications.
Assarzadegan, N. (2008). Dividing and Composing the Square. History and Pedagogy of Mathematics Newsletter (HPM Group), 13-20. Retrieved from http://www.clab.edc.uoc.gr/hpm/
Azarian, M. K. (1998). A summary of mathematical works of Ghiyath ud-Din Jamshid Kashani. Journal of Recreational Mathematics, 29, 32–42. Retrieved from http://www.jphogendijk.nl/arabsci/Azarian4.pdf
Bagheri, M. (1997, aug). A newly found letter of al-Kashi on scientific life in Samarkand. Historia Mathematica, 24(3), 241-256. http://dx.doi.org/10.1006/hmat.1996.2145
Bemanian, M., Okhovat, H., & Baghaei, P. (2011). Applications of geometry and proportion in architecture (Persian ed.). Tehran: Hlh Press in collaboration with publishing Than.
Beyhaqi, b.-F. (2011). The History of Beyhaqi: The History of Sultan Mas'ud of Ghazna, 1111-1101, Volume III: Commentary, Bibliography, and Index. (M. Ashtiany, Ed., & C. Bosworth, Trans.) Ilex Foundation. ISBN: 0674062396
Chorbachi, W. (1989, jan). Tower of Babel: Beyond Symmetry in Islamic Design. Computers & Mathematics with Applications, 17(4-6), 751-789. http://dx.doi.org/10.1016/0898-1221(89)90260-5
Cool Root, M. (1985, jan). The Parthenon Frieze and the Apadana Reliefs at Persepolis: Reassessing a Programmatic Relationship. American Journal of Archaeology, 89(1), 103–122. http://dx.doi.org/10.2307/504773
Denny, W., Necipoglu, G., & al-Asad, M. (1998). The Topkapi Scroll: Geometry and Ornament in Islamic Architecture:. Speculum, 73(2), 566. http://dx.doi.org/10.2307/2887224
Fallahfar, S. (1999). Dictonary of Iranian traditional Architecture. (1, Ed.) Tehran, Iran: Kamyab Publications.
Farnam, A. (2012, December 15). www.panoramio.com.
Ghazali, N. (1975). Photogrammetric survey of the Masdjed-e-Jame Esfahan. (J. Badekas, Ed.) Photogrammetria, 30, 219–235. http://dx.doi.org/10.1016/0031-8663(75)90040-x
Ghirshman, R. (1954). Iran from the Earliest Times to the Islamic Conquest (1st Edition ed.). Penguin Books. ISBN: B003U6WXHE
Godard, A. (1965). Art of Iran. GEORGE ALLEN & UNWIN; First British Edition edition. ISBN: 0047030011
Graber, O. (1990). The Great Mosque of Isfahan. Lonon, England: I B Tauris & Co Ltd; First Edition edition (December 31, 1990). ISBN: 185043185X
Hejazi, M. (2005, oct). Geometry in nature and Persian architecture. Building and Environment, 40(10), 1413–1427. http://dx.doi.org/10.1016/j.buildenv.2004.11.007
Ibn Khaldûn. (1989). The Muqaddimah: An Introduction to History (Bollingen Series). (N. Dawood, Ed., & F. Rosenthal, Trans.) Princeton University Press; Abridged edition. ISBN: 0691017549
Kermani, m. (2012, May 10). Darabgerd old city. Retrieved from www.panoramio.com.
Kharazmi, M., & Sarhangi , R. (2013). Geometric Analysis of Forumad Mosques' Ornament. In G. Hart, & R. Sarhangi (Ed.), Proceedings of Bridges 2013: Mathematics, Music, Art, Architecture, Culture (pp. 199-206). Enschede, the Netherlands: Tessellations Publishing. ISBN: 978-1-938664-06-9
Kharazmi, M., Afhami, R., & Tavoosi, M. (2012). A Study of Practical Geometry in Sassanid Stucco Ornament in Ancient Persia. Nexus Network Journal, 14(2), 227-250. http://dx.doi.org/10.1007/s00004-012-0106-8
Mehrabiani, V. (2011, April 4). www.panoramio.com.
Michael Woods, M. B. (2008). Seven Wonders of the Ancient Middle East. Twenty-First Century Books. ISBN: 082257571X
Moussa, A. (2011). Arabic Sciences and Philosophy. The Biographical Encyclopedia of Astronomers, 21(01), 1-56. http://dx.doi.org/10.1017/S095742391000007X
Naima, G. (2006). Gardens of Iran (Perian ed.). Tehran: Payam Publication.
Nasr, S. (1964). INTRODUCTION TO ISLAMIC COSMOLOGICAL DOCTRINES Conceptions of Nature and Methods Used for Its Study By Ikhwan al Safa, al-Birini, and Ibn Sina (1st edition ed.). Harvard University Press. ISBN: B00150DOKW
Necipoglu, G. (1992). "Geometric Design in Timurid/Turkmen Architectural Practice: Thoughts on a Recently Discovered Scroll and Its Late Gothic Parallels." In Timurid Art and Culture: Iran and Central Asia in the Fifteenth Century. (L. a. Golombek, Ed.) Muqarnas, VI, 48-66.
Neyestani, J. (2005). History of Mapping and Applications of Geometry and Arithmetic in Islamic Architecture. Peyke Noor (in Persian), 42-49.
Nicholson, R. (1998). Literary History Of The Arabs. Routledge. http://dx.doi.org/10.4324/9780203038956
Norouzzadeh Chegini, B. (1999). Yvaqyt al-Ulum V drary Alnjum. Ketab-e-Mah-e-Tarikh va Joghraphi (In Persian), 26, 39-41.
Özdural, A. (1995). Omar Khayyam, mathematicians, and "conversazioni" with artisans. Journal of Society of Architectural Historians, 54(1), 54-71. http://dx.doi.org/10.2307/991025
Özdural, A. (2000). Mathematics and Arts: Connections between Theory and Practice in the Medieval Islamic World. Historia Mathematica, 27(2), 171-201. http://dx.doi.org/10.1006/hmat.1999.2274
Pasandideh, M. (2007). Mathematics Teaching in the Academy Dar'olfonun (Qajar period). Master of History of Science Thesis. Tehran, Iran: Tehran University, Department of History of Science, Math in the Muslim world.
Pirnia, M. (2004). Sabk Shenasi Mi'mari Irani (Study of styles in Iranian architecture) (Persian ed.). Tehran, Iran: Me'mar-Nashr Publication.
Pope, A. (1971). Introducing Persian Architecture. California: Oxford University Press. http://dx.doi.org/0196476291
Renata, H. (1988). Text, Plan and Building: On the Transmission of Architectural Knowledge. In M. B. Sevcenko (Ed.), Theories and Principles of Design in the Architecture of Islamic Societies (pp. 3-4). Cambridge, Massachusetts: The Agha Khan Program for Islamic Architecture. ISBN: 0-922673-10-1
Ruggles, D. F. (2008). Islamic Gardens and Landscapes. University of Pennsylvania Press. ISBN-10: 0812240251
Sadeghi, A., & Ahmadi, F. (2011). Thinking in Timurid architecture principles With emphasis on the recognition of the Ghyasyeh school Khargerd. ketabmah-Honar (In Persian), 149, 106-111.
Saliba, G. (1995). A History of Arabic Astronomy: Planetary Theories During the Golden Age of Islam (New York University Studies in Near Eastern Civilization). Choice Reviews Online, 31(11), 31–6022. http://dx.doi.org/10.5860/choice.31-6022
Selin, H. (1997). Encyclopaedia of the History of Science, Technology, and Medicine in Non-Westen Cultures (Vol. Volume 1). Springer Netherlands. http://dx.doi.org/10.1007/978-94-017-1416-7
Sergeev, K. (2012, August 22). www.panoramio.com.
Taheri, J. (2008). Mathematical Knowledge of Architecture in the Works of Kâshânî. Nexus Network Journal, 11(1), 77-88. http://dx.doi.org/10.1007/s00004-007-0089-z
Taheri, j. (2011). Contemplation on the myth of Sheikh Baha'i Architecture. ketabmah-oloomfonoon (In Persian), 2, 4-15.
Taheri, J. (2011). Mathematician in Architecture. History of Science (tarikhelm in Persian), Vol. 9, No.1, 39-65.
Tavassoli, M. (2004). The Art of Geometry: Dynamic Forms, Spherical volumes of Abū al-Wafā' Būzjānī. Tehran: Payam Press collaboration with Peyvande no Publication.
Zarei, M. (2000). Introduction to world architecture (Persian ed.). Hamedan: Fanavaran Publication.
Notes