Drugs in Punjab: A Way with Words | The Indian Express
Drugs in Punjab: A Way with Words
Ludhiana-based poet Sukhwinder Amrit, 64, pens the pain of Punjab in this verse: "Our youth, our Punjab is dying. If not today, then when will we use this pen?"
Written by
Divya Goyal
|
Updated: July 8, 2018 1:04:00 pm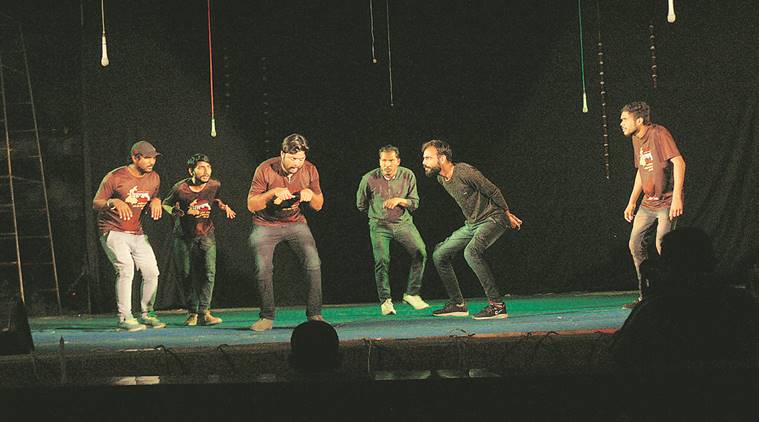 Red Arts theatre group has been performing Aakhir Kab Tak, a play that send out a message against drugs. (Source: Express Photo)
Milda na koi hal hun teri kitaab chon, sau sau sawaal nikalde hun ikk ikk jawaab chon; Chittey di kaali khabar hi hun surkhiyaan ch hai… baaki rang ho gaye manfi Punjab chon… (No solution seems to be in sight to this drug problem. One answer raises a hundred more questions. Black stories of chitta are back in news, seems other colours have vanished from Punjab.)
Ludhiana-based poet Sukhwinder Amrit, 64, pens the pain of Punjab in this verse: "Our youth, our Punjab is dying. If not today, then when will we use this pen?"
With a spate of drug-related deaths reported in the past few weeks, the limelight in Punjab is back on drugs, which have cast a doom on the state. Waging their own war against drugs with their pens and artistic endeavours are playwrights, poets, storytellers, lyricists and artists. The effort is heartening, given that the Punjabi music industry is usually preoccupied with guns and violence.
Poet Surjit Patar, recipient of the Padma Shri, quotes from his poem: Chheti Chaliye, 'Kalma valeyon, saazaan valeyon, naatak tey aawaazan valeyon, sochan valeyon, bolan valeyon. Chheti Chaliye. Iss ton pehlan kho lai jaan oh putt mavaan de, Nasheyaan de saudagar. Aao jaake beej deyiye, koi kaavi, kahaani, Amrit baani…(In these lines, Patar urges poets, writers and artists to walk fast and reach the youth of Punjab before drug suppliers reach them and snatch a son from his mother's lap. He urges them to plant a poem, story, pious gurbaani and light of knowledge in their minds before drug smugglers take over). "When there is no political solution in sight there has to be an apolitical one. Art and the pen have the power to bring this mass awakening, to bring out the youth from this mess," says Patar, Chairman of the Punjab Kala Parishad.
There couldn't have been a better reward for Red Arts Theatre Group, which since 2015 has been performing its street play Aakhir Kab Tak, against drugs across Punjab with more than 15,000 acts till now. "Five of our members were addicts. After seeing our play, they vowed to give up drugs. Now, they perform with us. Can there be a bigger reward? We started with four people and now we are 40," says Deep Jagdeep, the founder of the group. The group's slogan, Arthiyaan chukkan naalon changa hai, zimmevariyaan chuk lo (instead of coffins, it's better to lift responsibilities), is popular among youngsters, who are campaigning against drugs. They have also formed 'Red Band', which promotes songs against drugs.
Ludhiana-based Tarsem Deogan, in his play Ultey Wagan Dariya, exposes the reality of police camps for drug addicts. A police inspector, to inflate the number of attendants in the camp, gives heroin to an addict, who later dies of an overdose. In a hitting dialogue, the inspector seeing the addict's body says, Nashediyaan ne taan ehda di hi mout marna hunda hai (this is the end that drug addicts have to meet). Few minutes later, the inspector receives the body of his son, who has died due to a drug overdose.
Two government school teachers Surender Sharma and Harkesh Chaudhary from Mullanpur who have formed the Lok Kala Manch, have been touring the state with their play, Ehna Zakhma Da Ki Kariye, based on story Sewa of Gurdial Dalal. The play depicts the plight of a father who himself is an alcoholic and then loses two sons to drugs. "The land of Punjab named after its rivers is now seeing a sixth river of drugs flowing in it. After seeing our play, youth from a village in Patiala went to gurudwara and vowed to leave drugs. That's when we realised how powerful theatre can be and we have to keep this fight going," says Sharma.
Punjabi singer Raj Ranjodh's song Chitta Lahu and Waris Brothers' latest Ve Lokon Punjab Nu Ajj Khaa Leya Chittey, speak boldly against drugs, going against the much criticised trend of Punjabi numbers glorifying guns, violence and drugs. The lyrics of Ranjodh's song made it an instant hit, Ho mathe utton poojde sindoor chitte ne, laashan naal kash to vihaiyan kudiyan. Bapu vekhe viniyan baahan nu nap ke, lahu nikleya ke drug nikli. (Chitta has made girls widows, they are being married to living corpses. Not blood, but veins of Punjab youths are seeping drugs).
Playwright Pali Bhupinder, who has started 'Black Week Against Drugs' protest in Punjab says the efforts of writers and the artists community in Punjab, to speak against drugs need to be intensified and the voices need to be heard loud and clear.